Costa Victoria 4*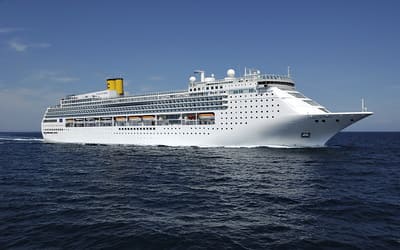 Year of construction / renovation :1996/2013 г.
Displacement :52926 т.
Number of decks :11
Passenger :1680 Human
Maximum speed :20 уз.
Length :221 м.

Liner Costa Victoria is ideal for people who love design, elegance, symmetry of forms and muted colors. The liner was completely renovated in November 2013, where cabins with balconies were added, all public areas of the liner and cabin interiors were modernized. Now the liner has its own unique style, which combines classic maritime themes with modern minimalism, high-quality finishing and works of art.
The liner is very impressive, starting from the futuristic atrium of the planetarium or concord Plaza, surrounded by glass walls overlooking the sea and coming to life in the evenings thanks to live music and dancing. Living rooms are decorated with works of art. On board is the magnificent Pompei Wellness Centre, with a pool area modeled after the ancient rectangular Roman baths, surrounded by columns, and including a sauna, steam room, treatment rooms and a gym. At your service is a casino, a disco, numerous living rooms and bars, a theater, 5 restaurants, including the alternative restaurant Club il Magnifico. There are 3 swimming pools on board, including one indoor one, and 4 jacuzzis. There is a children's club on board for children.
Family and youth recreation, recreation with children.
On the liner, there is a shift system of dinners, i.e. dinners are held in 2 shifts at 19:00 and 21:15 respectively. There are 5 restaurants on board:
2 main restaurants (included in the price): Sinfonia and Fantasia, where breakfasts, lunches and dinners are served. As well as the Buffet - the Bolero Buffet Restaurant, which operates according to the "buffet" system.
Alternative restaurant (requiring additional reservation of tables - 20 Eu per person, strong>): Club Il Magnifica.
There are 10 bars on board.
Attention! The evening buffet is open until 17:30. The sandwich section is open from 17:00 to 18:00. Pizza in the buffet (for an additional fee of 4 EU) is open from 18:30 to 23:00. While the buffet is closed, coolers and coffee machines in the buffet are also closed.
Festival Theater
Casino Neptunia
3 pools (one of them indoor)
4 jacuzzis
fitness center
treadmill
spa salon
beauty salon
library
slot machines
video game room
conference hall
boutiques
photo salon
chapel
Rock Star disco
Squok Club Children's Center
slot machines
internet cafe
Tips are paid on board and automatically included in the final bill.
Tip size:
Adult - 10.00 euros/day per person;
Children (4-14) - 5.00 euros/day;
Children (0-3) - no tip.
Costa Cruises ships have professional animators who organize 4 different clubs for children of different ages. Participation of children in children's clubs is FREE! Children must be registered in the club on the first day of the cruise.
Mini Club (from 3 to 6 years old) and Maxi Club (from 7 to 11 years old) have their own playgrounds and their own pools on some ships. . Clubs are open in the morning, afternoon and evening. The service "Parents on excursions, children in the Club" is available upon request.
Adolescent (from 12 to 14 years old) and Youth (from 15 to 17 years old) club programs help you find new friends on vacation.
Clubs work according to the schedule from 9:00 to 12:00, from 15:00 to 18:00 and from 21:00 to 23:30.
Infants (from 6 months to 2 years) are allowed to visit the children's room accompanied by adults. Multi-deck ships are ideal for parents with babies and toddlers in strollers who can cruise from 6 months. The ships are equipped with spacious elevators and cabins, wide outer decks, free walkways and corridors. The following are available to order:
- cots and cradles, baby bathtubs, the possibility to prepare baby food in the cabin, high chairs in restaurants, bottle warmers, the possibility to order cooking for the child in the restaurant. You can also order the services of a private nanny for an additional fee.